Gabions for decorative purposes
Order easily welded gabions
Smart Metal Group is a leader in the gabions trade. Do not hesitate to order high-quality gabions at competitive prices. For the comfort of our clients we also offer professional installation of gabions for Sofia region! We deliver gabions to all parts of the country .  Call: +359 876 836 490 or email us at sales@smartmetalgroup.com to contact our consultant, who will give you detailed information about our range.
What are gabions for decorative purposes?
The gabion is a building system with wide applications. There are many types of gabions, but each of them consists of two main components – mesh and filler material. Steel is mostly used for the production of gabion mesh, but other metals can also be used for decorative purposes. The filling material is typically made of rock fragments, and again there are many different options for a specific appearance of the gabion.
In addition to the correct geometric shape, gabions can be made with different configurations to perform decorative functions in addition to construction. Decorative gabions are increasingly used in landscape architecture, as they offer incredible opportunities for artistic expression at a low price. The construction of the gabions can be performed in different ways to achieve maximum satisfaction with the end result. Examples of decorative gabions are countless, some of them can be – flowerpot gabions, gabion benches, gabion fireplaces, gabion sculptures. What can make a gabion decorative is not only its geometric shape. The configuration and arrangement of the filler material also plays an important role in the decorative appearance of a gabion. Decorative gabions are strictly individual depending on the desired result and the requirements of our customers. For this reason, they are made on an individual project for decorative gabions.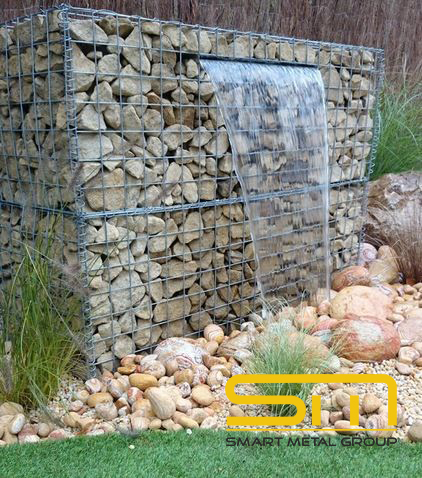 Characteristics of decorative gabions
Wire size: gabions for decorative purposes are made of galvanized wire mainly with a diameter of F3.00 or F4.00.
Types of coating: the main coating for this type of gabion is zinc coating. It protects the metal from the harmful effects of the atmosphere (atmospheric water, rain, snow, wind, and temperature amplitudes), as well as from corrosion. Galfan wire or hot-dip galvanized gabions can be made to order.
Types of cells: the standard openings of the electrowelded gabions are mesh size: 50×50 mm, 50×100 mm, 100×100 mm, while the braided ones are 80×100 mm.
Why are gabions chosen more and more often for decorative projects?
High stability and load-bearing capacity – gabions are able to withstand very large loads. The combination of rock materials and metal mesh increases the load-bearing capacity and durability of the structure. The components complement each other. The high curb weight of gabion structures contributes to their resistance to impact, overturning and slipping.
Durability of the construction – the gabions themselves are extremely durable not only in time but also in various external weathering and corrosion. Thanks to this, gabions retain their durability and appearance for years to come.
Easy installation and maintenance – gabions are structures that do not require significant capital investment during their installation and operation. They are characterized by extremely long life. Their coating preserves the metal, and the rock fragments are also not affected by the weather, which leads to the elimination of special maintenance over time.
Budget solution – as a solution gabion structures are relatively budget, and for comparison can be taken into account the necessary funds for the implementation of a solid reinforced concrete structure. They are easy to install, machines are required only for large and difficult objects. The aggregate material with which they are filled is mainly rock fragments, which are also low cost.
Environmental friendliness and safety – gabion structures are environmentally friendly. The cavities between the rock fragments in the gabions allow the vegetation to grow without hindering its development. The metal mesh of the gabion is an ideal supporting skeleton for all creeping plants. This makes them a perfect choice for various landscape projects in yards, gardens, parks, etc.
Types of gabions for decorative purposes
Flower beds, pots, fencing.
Fireplaces, summer gardens, fireplaces.
Waterfalls, ponds, water effects.
Home and garden furniture.
Stairs, stairwells, terraced yard.
Decorative columns, fences, enclosures.
Decorative elements and sculptures.
Container bins and waste bins.
Sheds, summer gardens and other outdoor areas.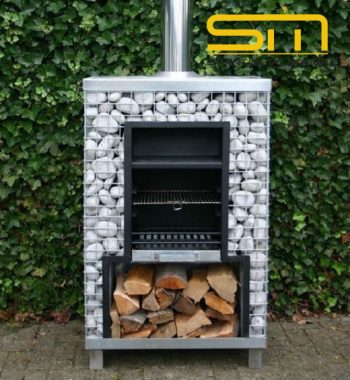 Some interesting suggestions from Gabioni.eu
Габион саксия:
50х50х50 см Ф3.00
Клетка 50х50 мм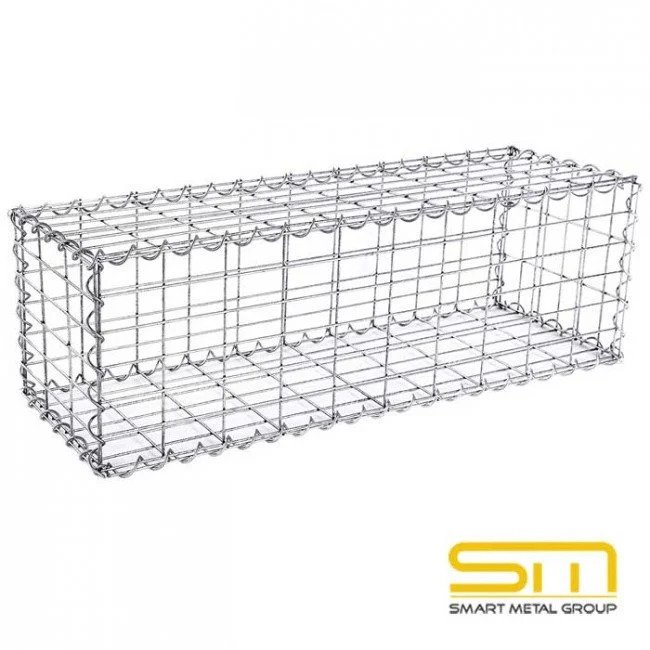 Декоративен мини габион
50х25х50 см Ф3.00
Клетка 50х50 мм
Габион тип "Матрак":
50х100х200 см
Габион тип "Матрак":
50х100х100 см
Give a unique and sophisticated look to your yard or garden. The possibilities for choosing decorative gabions are endless, and we at Smart Metal Group are ready to be your partner in transforming any landscape object into a real paradise. Call +359 876 83 64 90 or email us at sales@smartmetalgroup.com to send your questions to us. Our consultants are ready to give you complete information, as well as to make a personal offer for the types and quantities of gabions you want. Do not hesitate and change the look of your yard or garden with decorative gabions from Smart Metal Group!
Pickup with own transport from Sofia, 67 Okolovrasten pat Str.
Delivery via Transpress for weight over 50 kg. (palletized shipment).
Delivery by courier of your choice.
Delivery with our transport.
Delivery time minimum 5 working days, depending on the number of ordered gabions.
Available in stock of woven and welded gabions can check at the indicated contacts.